Office 365 Spam Filtering
Smart, automated email filtering solution that works
Working with emails and productivity applications like Office 365 is a necessary business operation and is globally accepted among companies, despite many alternative forms of communication. The fast flow of information in emails is hard to replace, with all the benefits it can provide. However, there are a number of challenges presented in the modern world which make email difficult to work with at times.
The trouble with emails
There are a number of threats you may encounter on your email inbox, on a daily basis. Some of these are hacking attempts that impersonate your favorite sites that you login to. Others are plain marketing emails that want to distract your attention. Some emails even contain viruses, malware, and spyware - which are risky to open yourself.
Reading, sorting, and deleting these emails requires a large time commitment of you or one of your employees. Your business needs a reliable spam filtering service to help you stay productive and safe. EMSCO Solutions can help you.
About Office 365
Microsoft Office 365 is a globally recognized productivity application that brings emails, documents and the whole team together. From Microsoft Outlook to OneDrive and Microsoft Teams, Office 365 lets anyone create and share on any device.
Say goodbye to your messy email inboxes.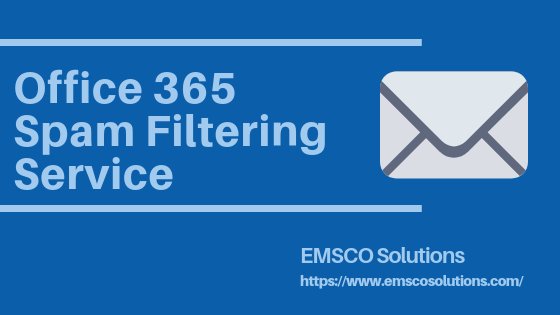 EMSCO Solutions provides an advanced Spam-filtering solution that is compatible with Outlook, Office 365 and other email providers. Our complete solution to spam protection has evolved during our years of experience. We will work closely with you to set up your email inboxes to your preference. We'll make sure the installation does not conflict your normal operations, with little to no downtime.
Start protecting your Office 365 users and experience the benefits for yourself. Contact us to learn how you can better protect your business while using Office 365.
Our spam filtering solution includes the following
Outlook Email Filtering Solution
Email Archiving Service
Behavioral-Based Anti-Malware
Real-time Anti-Phishing solutions
Cloud Data Security
Email Encryption Service
Data Backup and Protection
Email Security Awareness Training/seminar for Employees
Advanced Security Protocols

Strong Password Policy
Rights Management
Multi-Factor Authentication
Data Loss Prevention Policies (DLP)
Assess Security With Office 365 Secure Score
Monitor Activity With Office 365 Cloud App Security