Securing Office 365
Keeping you protected with advanced security measures for Office 365.
According to Microsoft, the number of users utilizing Office 365 is around 120 million, while there are about 50,000 new small business customers subscribing to Office 365 each month. The high volume of active paying users makes Office 365 a valuable target for cybercriminals.
Stakeholders and decision-makers need to use their Office 365 programs in a more secure way. There are security features in Office 365, but you can not rely completely on those factory features. These protective measures have already been exploited via cybercriminals.
What you need is to have separate security measures that are compatible with Microsoft Office 365.
EMSCO Solutions offers security and consulting services for Office 365. These security features block the most persistent attacks and threats from suspicious sources and list them actively in a separate log file. From there, we can both trace how they made the attack and make an action plan to counter further attacks on the system.
Our security service works with other cloud providers too!
About Office 365
Microsoft Office 365 is a globally recognized productivity application that brings emails, documents and the whole team together. From Microsoft Outlook to OneDrive and Microsoft Teams, Office 365 lets anyone create and share on any device.
Our security services include the following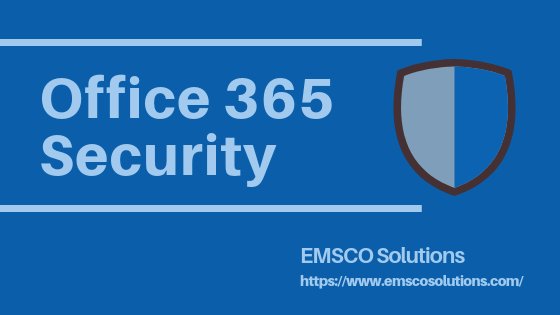 Start protecting your Office 365 users and experience the benefits for yourself. Contact us to learn how you can better protect your business while using Office 365.
Outlook Email Filtering Solution
Behavioral-Based Anti-Malware
Real-time Anti-Phishing solutions
Cloud Data Security
Email Encryption Service
Data Backup and Protection
Security Awareness Training/seminar for Employees
Advanced Security Protocols

Strong Password Policy
Rights Management
Multi-Factor Authentication
Data Loss Prevention Policies (DLP)
Assess Security With Office 365 Secure Score
Monitor Activity With Office 365 Cloud App Security